The Azores islands was formed six million years ago from a volcanic eruption in the Atlantic Ocean. Therefore, Azorean soil and spring waters are extremely rich in micronutrients, such as minerals and vitamins, which provide them with unique properties. Our Volcanic clay mask results from the combination of multiple resources from the Azores, providing your skin with a unique blend of natural and biotechnological ingredients.
The Volcanic clay absorbs epidermal impurities, while nourishing its cells with antioxidants, minerals and vitamins from our EPC Factor®.
The thermal water from San Miguel island has shown to hydrate the skin while reducing UV damage, inflammation and supporting skin's natural microbiome. The high amount of silica, magnesium, potassium and calcium found in the thermal water improves the skin's texture and reduces water retention allowing toxins to be released.
The Azorean volcanic clays absorbs the skin impurities such as pollution, residues and excess oil, while supplementing the cells with copper, selenium, zinc and manganese. These minerals are essential to many skin's natural enzymatic processes such as free radical neutralization, cell renewal and improves collagen synthesis.
Ignae's patent pending EPC Factor® provides the skin with antioxidant-rich nanosomes containing epigallocatechin from Azorean camellias and Cryptomeria japonica extracts. Independent studies show this technology accelerates skin regeneration, while protecting it from free radicals, increasing extracellular hyaluronic acid and reducing skin collagen breakdown. Parallel to this, Aloe vera and pro-vitamin B5 (panthenol) guarantee the regeneration of skin's natural barrier function, thus reducing dehydration.
For a smooth radiant skin after mask removal, we included rosehip, Camellia japonica and sunflower oils in Volcanic clay mask formulation. These are light textured oils that act by filling in the irregularities of the epidermal surface with a light non-occlusive layer. Moreover, Camellia japonica seed oil stimulates collagen production and skin barrier repair, while rosehip oil reduces skin inflammation and protects from free radicals.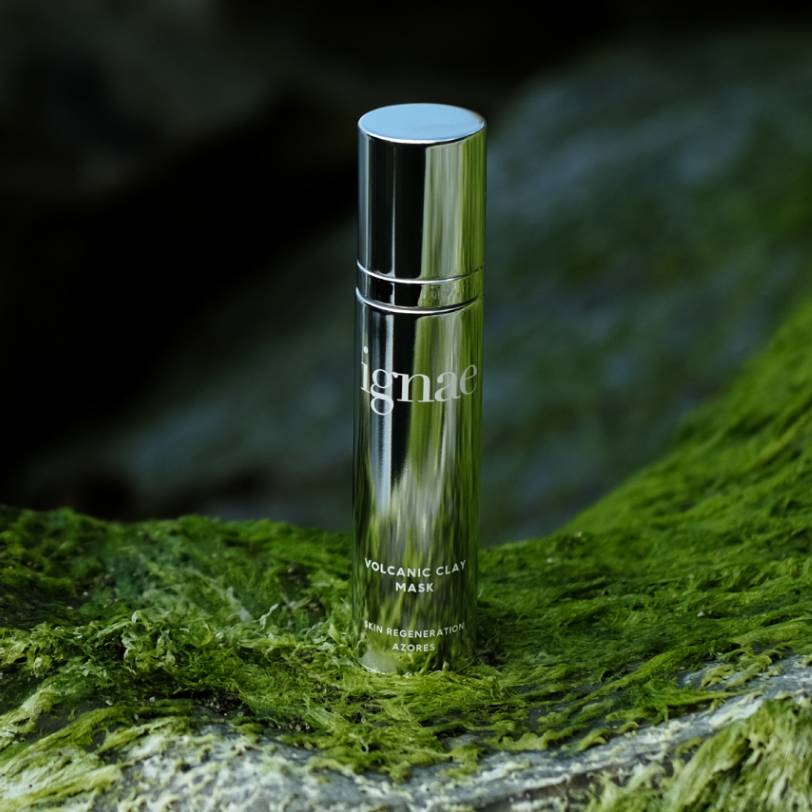 Back to Academy of Skincare